Deborah Harding Women of Achievement Award Recipients
2022 - Dr. Theresa P. Castillo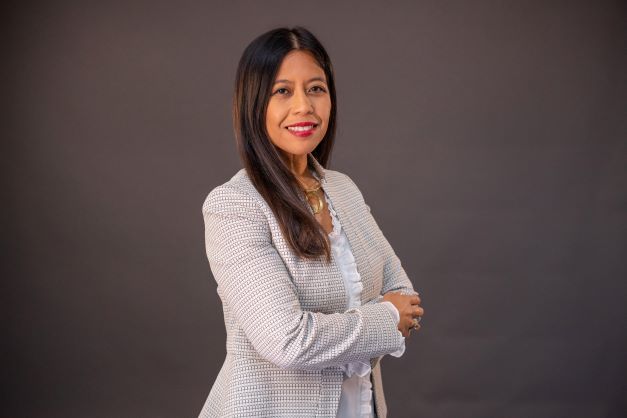 Women of Peace Corps Legacy is pleased to honor Dr. Theresa P. Castillo as the 2022 winner of the Deborah Harding Women of Achievement Award.  Informed by Peace Corps service early in her career in Turkmenistan, Morocco, and Mali, Theresa has worked in the fields of gender, social justice, and health equity for more than 25 years, and has helped thousands of women and girls around the world.  
Working primarily in resource-poor settings across Asia, North America, and sub-Saharan Africa, Dr. Castillo has collaborated with various non-governmental organizations, UN agencies, and Ministries of Health to strengthen public health systems. Dedicated to community-led innovation, her work centers around co-creation and partnership with multidisciplinary actors. Her research is dedicated to immigrant, refugee, and indigenous women and girls' health issues.  A strong advocate of holistic concepts of health and integrated healing, Dr. Castillo serves on several health equity committees, peer-review journal panels, and presents globally on gender, SRH, youth and indigenous rights. Currently, she is the Chief Program Officer at HealthRight International and teaches at Bard College's Globalization and International Affairs, New York University's School of Global Public Health, and Teachers College, Columbia University. 
2021 - Nancy Kelly
Nancy Kelly is a 2021 recipient of the Deborah Harding Lifetime Achievement award. Nancy has been Executive Director of Health Volunteers Overseas (HVO) since 1986. She has been instrumental in creating many of the successful programs, especially those that aid women's health. Under her leadership, HVO has facilitated over 11,900 volunteer assignments globally. The last five years have resulted in, on average, 3,200 health professionals receiving training and mentorship each year – benefiting innumerable women and children both directly and indirectly. Kelly served in the Peace Corps in South Korea from 1979-1981 as a maternal and child health care worker. Nancy has continued the work she did in the Peace Corps by making healthy mothers and children a cornerstone of her career at Health Volunteers Overseas. Women of Peace Corps Legacy is honored to have presented the Deborah Harding 2021 Lifetime achievement award to Nancy Kelly, whose innovation and compassion has formed the organization of Health Volunteers Overseas that we all know today.
2021 - Amy Maglio
Amy Maglio is one of the recipients of the Deborah Harding Lifetime Achievement award for her work as Founder and Executive Director of Women's Global Education Project (WGEP). Her work from the Peace Corps and beyond has touched thousands of lives and given many girls the gift of education and empowerment. Maglio's journey to starting her organization began  as a Peace Corps volunteer in rural Senegal. 
 Her service aided her in learning the importance of community mobilization, which is a necessity for WGEP. Amy believes that " it's  essential to work with grassroots leaders and activists to shift attitudes in favor of gender equality, and to create long-term, systemic change." WGEP uses a holistic approach when it comes to its education program. Girl's Education & Leadership, Literacy, Ending Female Mutilation, Community Engagement, and Building Partner Capacity are the pillars of WGEP's education system.  The support of other RPCVs for the past two decades has been tremendous for Amy's efforts to grow WGEP and advocate for her students. Through the organization's commitment to working closely in communities and support of past volunteers and mentors,  WGEP's programs have reached over 20,000 women and girls and over 30,000 people in more than 72 villages in Senegal and Kenya. 
2019 - Sue Richiedei
Women of Peace Corps Legacy is pleased to announce Sue Richiedei as the recipient of the 2019 Deborah Harding Women of Achievement Award. Sue has spent over 35 years improving the lives of women and girls around the world.
As a 22-year-old Peace Corps Volunteer in 1976 in northeast Thailand, Sue understood the importance of improving the lives of girls in male-dominated society. She took a special interest in motivating girls and removing the barriers preventing them from attending school. This work stayed with her.
Sue has dedicated her life to training, advocacy, and reproductive health service delivery projects throughout Asia, Africa and the Middle East. She is the founder and Senior Director of Counterpart International's WomenLead Institute, which focuses on women-centered programming across multiple technical areas and in public, private and civil society sectors, always highlighting the leadership, confidence building, and managerial skills women need to advance. The WomenLead Institute has directly reached over 6,000 participants.
In 2005, Sue designed and launched the Global Women in Management Program (GWIM), which has reached over 1,000 women in 77 countries with month-long leadership workshops, women-to-woman coaching, networking and small grants.  GWIM alumnae work with local NGOS that implement women's economic and entrepreneurship programs in their local communities, providing tens of thousands of women and youth with skills and resources they need for financial security.
Sue created the WomenLead workshop series to enhance women's personal and technical leadership and designed the Global Women in Management and Alumni Coaching programs to advance women's economic empowerment, reaching over 6,000 participants.
2018 - Roma Guy & Diane Jones
Roma Guy and Diane Jones are partners both in their social and political activism and in marriage. After serving in the Peace Corps in the 1960s and 70s, respectively, they moved to San Francisco and joined the many social justice movements sweeping the country at that time. They have been leaders in the struggles for the rights of women, immigrants, LGTBQ persons, and people with HIV ever since, and their many contributions were highlighted in the recent ABC TV drama series about the LGBT rights movement, "When We Rise".
Roma and Diane were among the co-founders of the San Francisco Women's Building, a community and arts center that advocates gender equality and self-determination. Roma co-founded La Casa de Las Madres (the second battered-women's shelter in America), San Francisco Women Against Rape, and the Women's Foundation of California. She is a longtime advocate for women's access to health care, served on the San Francisco Health Commission, and taught health education at SF State University for over a decade. Today, she continues to connect underrepresented and vulnerable communities with policymakers and works to end the systemic racism embedded in the criminal justice system.
Diane served as an HIV/AIDS nurse for over 30 years - through the height of the epidemic - and helped establish the special HIV ward at San Francisco General Hospital. She was a mentor to HIV clinicians in Cote d'Ivoire working with the President's Emergency Plan for AIDS Relief and the Elizabeth Glaser Pediatric AIDS Foundation. Although recently retired, Diane currently works on capacity-building across U.S. municipalities to address health disparities in HIV prevention and care, and on San Francisco's signature Getting to Zero Initiative, which seeks to end new HIV infections in the city by 2020.
2017 - Dee Aker
Dee Aker, PhD, is a psychological anthropologist and conflict resolution professional with over 40 years of experience working in peacebuilding and conflict transformation in international settings. Part of the leadership of the Joan B. Kroc Institute for Peace and Justice (IPJ) since its inception in 2000 through 2016, Aker created the Women PeaceMakers Program (WPM), which documents the stories of women who build peace in conflict or post conflict; the WorldLink Program, which connects high school youth from Mexico and the United States to global affairs; and the 15-year Nepal Peacebuilding Initiative, which worked to support local Nepal people in ending conflict and building peace in post-civil-war challenges. Aker was a Peace Corps volunteer in Colombia in the Corps' early years, which she credits as the impetus to be ever involved in efforts to secure human rights and justice and, especially, encourage and acknowledge the role women have in peacebuilding that is so often ignored or over-looked.  She has since worked across the globe to support the inclusion of the voices of women, youth and other marginalized communities, in discussions and decisions related to conflict resolution and sustainable peace — including designing and leading participatory trainings/workshops in communications, negotiations, skills-building and leadership. She believes strongly in participatory methodologies and a "whole community" approach to conflict transformation.
2016 - Sara Goodkind
Associate Professor Sara Goodkind earned a PhD in social work and sociology, a graduate certificate in women's studies, and an MSW, all from the University of Michigan. Goodkind's research focuses on programs and services for young people, particularly those in the juvenile justice and child welfare systems. She is interested in how understandings of gender, race/ethnicity, class, sexuality, and age shape service design and delivery and how these, in turn, affect the mental health and well-being of young people, parents, and staff members. All of her research uses an intersectional lens to understand the experiences of young people in multiple locations and systems. Much of her work has focused on programs for girls in the juvenile justice system, and she has been involved with efforts to improve the system and prevent and develop alternatives to girls' involvement with it. Dr. Goodkind recently conducted a community-based participatory research project that explores the experiences of low-income youth of color with single-sex public education and included affected youth as research team members.